Portimão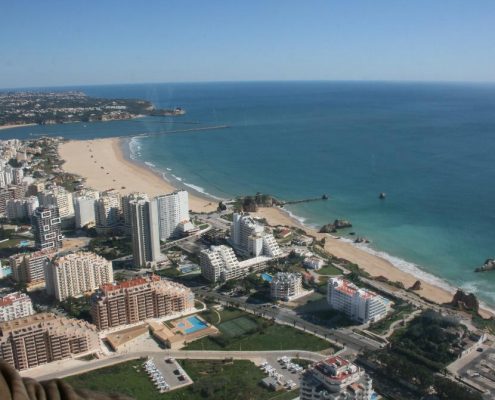 The city of Portimão has more than 50,000 permanent residents and is the largest town in the Algarve's Barlavento (windward) side. It is the Algarve's second largest city, after Faro. The city was discovered by national tourists and Praia da Rocha was one of the region's original summer holiday destinations. This city was, for decades, a summer resort for wealthy families of Portimão, of the Algarve and Andalusia. English visitors came in the winter season. The 5* Bela Vista Hotel located right on Praia da Rocha remains a symbol of the town's "Belle Époque" architecture and decoration. The municipality is served by excellent accesses, including boat (marina which also receives cruise liners), bus (direct links to Spain, Lisbon and other large cities in the Algarve, as well as the Vai-vem which ensures coverage of the entire municipality on a regular basis), as well as a small aerodrome located in Alvor. It is 63km from Faro International Airport and 297km from Lisbon.
The city centre is 2 km from the sea, and the most sought areas are the beach of Praia da Rocha and along the river Arade, where several events such as the International Formula 1 Powerboating Championship takes place, and where the river mouth is framed by the marina and by the picturesque village of Ferragudo in the neighbouring council of Lagoa.
AMENITIES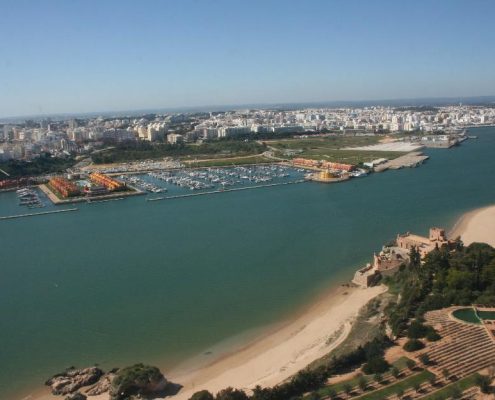 Portimão offers outstanding infrastructure including a municipal sports complex including tennis and padel, swimming, and the town's football stadium, where the Portimonense football team regularly transitions between the country's premier and second leagues. Tourist continues to be a major source of revenue and urban tourism offerings abound: many bars with live music, a casino, and discotheques. Portimão is the country's third largest cruise ship port (after Lisbon and Funchal), by passenger numbers.
Similarly to other high-rise locations in popular destinations around the world, the difference often lies in the quality of the beach. Here Praia da Rocha is almost unmatched globally as an urban beach. A wide stretch of sand (wide enough to host world beach football and volleyball tournaments), safe boardwalk, plenty of restaurant and entertainment options, many of which remain open year-round, and connectivity to the rest of the city via excellent urban bus network. The main beach ends at the Marina of Portimão, with its varied restaurants, bars and shops.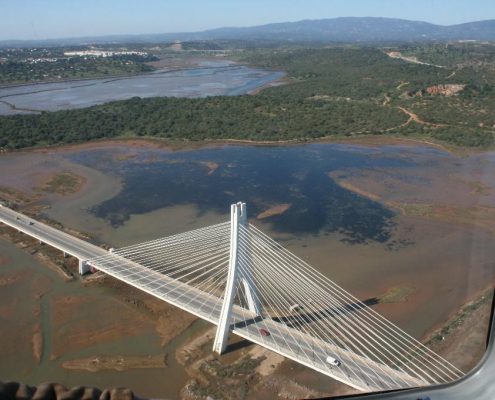 Although much more "urban" in feel than some of the other locations in the Algarve, Portimão was classified, a few years ago, as the city in Portugal that provided better quality of life for the diversity of its services and given its geographic location.
For sport lovers there are many possibilities: several golf courses (Penina, the Algarve's original course by Henry Cotton, is internationally renowned), tennis courts, beach volleyball, surfing, kitesurfing, Tandem, skydiving in the Municipal Aerodrome, karting and sailing. For lovers of hiking, there is easy access to the well-known "Caldas de Monchique" natural spa, which is 30 minutes away in a neighbouring municipality.
Despite the short distance that separates it from Portimão (5 km), the differences between Portimão and its suburb are significant and noticeable. Very dependent on tourism, Alvor offers a variety of hotels with swimming pools and spas, a wide variety of restaurants and bars, excellent modern sporting infrastructure, and its stand-out feature, the beautiful beach ideal for swimming or walking. Alvor maintains a charm and simplicity typical of an authentic Portuguese fishing village, and is popular with tourists and new residents alike.
With about 7,000 inhabitants, Alvor has most basic services: supermarkets, a private hospital (very popular with foreigners), the municipal swimming pools, post office, pharmacies, etc. With regular public transport, any requirement which might not be met in Alvor, can easily be satisfied in Portimão.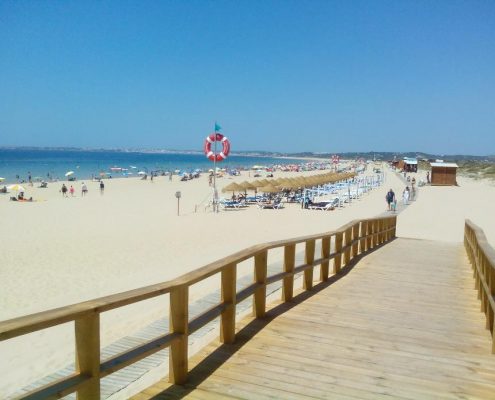 On one side the sea, on the other the "Ria de Alvor", a protected area formed by a wide estuary which penetrates inland, separating them a wide and extensive dune. In this natural area, dozens of species of migratory birds make their nests, animal life continues in the marshes and fishermen collect fish and molluscs with traditional arts. Discover this charming place in the diffuse light of dawn that gives you a total feeling of idleness, possible through a boat rental or simply touring the area on foot.
REAL ESTATE LANDSCAPE
In real estate terms, unlike other areas of the Algarve, Portimão has developed as a residential city primarily characterised by urban accommodation. Apartments constitute the majority of the city's inventory, which is found in medium-rise apartment blocks, with that height increasing in the Praia da Rocha area. The suburbs are made up of residential areas consisting of townhouses or villas. As in most cities, the further the distance from the centre, the larger the plot size.
Residential urban construction has been accompanied by the building of significant infrastructure and amenities including two large shopping malls, several supermarkets, public and private hospitals, a large municipal market with a considerable variety of fish, several gymnasiums, cinema complexes, theatres and performance arenas, in addition to the huge gastronomic choice and many entertainment venues.
Most foreign resident demand has been either for more modern apartments, some with sea views but all with easy access to Praia da Rocha, or properties in the quieter village of Alvor. With the latter providing lower rise modern apartments or traditional and contemporary villas, the municipality of Portimão can offer a range of real estate styles.
PORTIMÃO AND ALVOR AS RETIREMENT DESTINATIONS
Portugal's NHR program has contributed significantly to the growth of foreign retirees resident in the city, in particular Finnish nationals who have been attracted by the city's broad range of amenities and infrastructure. The city is probably the Algarve's largest and busiest year-round city, more so than Faro which is sometimes a little transient. With real estate cheaper than many other coastal locations in the Algarve, this is an excellent option for those who seek an entry-level purchase, or a cost-effective long-term rental.