Central Algarve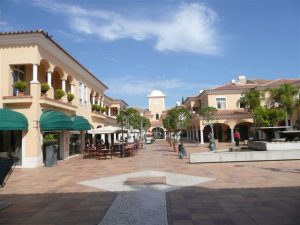 The central Algarve is the busiest touristic region of the Algarve and is characterized, on the one hand, by the mass tourism cosmopolitan Albufeira, with affordable prices and busy summer nightlife, and the Golden Triangle, the embodiment of elite tourism, on the other. Prices in Quinta do Lago and Vale de Lobo reflect the area's reputation and its association with exclusivity. In the middle, the town of Vilamoura, constructed as a planned "new town" around the world-famous marina and its multiple golf courses, is located next to the traditional town of Quarteira, with its wonderful beach and many local restaurants and markets.
Beaches in the Central Algarve vary between the longer Praia Grande and Falésia to the cove-like Pescadores.
Vilamoura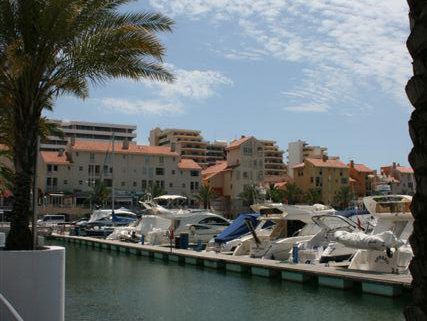 Vilamoura is a luxury tourist complex located in the Municipality of Loulé. It has a marina, a golf academy and five golf courses, a casino, several discotheques, a tennis club, a diving club, other leisure facilities, an extensive beach, and dozens of 4 and 5 star hotels. Vilamoura has grown around the marina, and recent acquisitions by foreign buyers will see additional investment into townhouses, apartments and villas. As a "new town", Vilamoura attracts those looking for an upmarket lifestyle with a close link to the marina sailing and golf. 
As it does not have any traditional construction, it is not the right destination for those looking for the Algarve's authenticity or culture.
Albufeira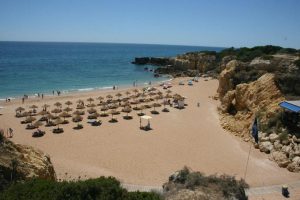 Albufeira town saw its greatest urban growth in the 1980s, with the city growing to the east, where most of the administrative services, including the Town Hall, were transferred. Today, Albufeira and its municipality have become one of the main tourist centers of the country, with its nightlife one of the most famous in the country. The old part of town has managed to preserve part of its historic heritage and is a quaint, charming location, in particular out of season where crowds can be avoided and beachfront restaurant tables are easier to find. The picturesque historic area contains traditional white houses, narrow streets with cafes and small charming shops.
Quarteira
Quarteira, a popular tourist center in the Algarve between Vale do Lobo and Vilamoura golf resorts, now has a pedestrian walk by the sea that links it to Vilamoura. Despite the short distance separating them, the differences are enormous. Life is more economic than in Vilamoura, which attracts real estate investors, and its 2km blue flag beach draws tourists to this city. The nearby fishing port of Quarteira is considered one of the best places to buy fresh fish and seafood in this area. On Saturdays, regional and Alentejo farmers sell their products here. There are a large number of shops and services, attracting people from the surrounding area who cannot find what they are looking for.
Between Quinta do Lago, Vale do Lobo and Vilamoura there are 13 wonderful golf courses. Some have already hosted international tournaments such as the Portugal Open or Portugal Masters.
Real Estate Landscape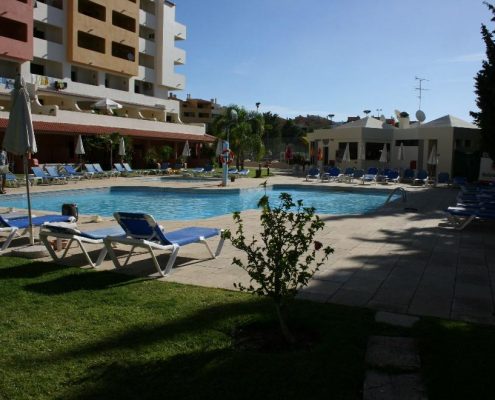 Quarteira and Albufeira are characterized mainly by high density medium-rise apartment accommodation. Prices are consistent with that style of construction. The greater affordability means that both towns have a large resident Portuguese population and that access to grocery shopping, affordable dining and municipal sporting facilities is excellent. For winter residents the cities will be sufficiently busy while not experiencing any of the summer crowds. Equally, for anyone who purchases and spends the winter, summer rentals will be easy to obtain mainly from Portuguese middle and lower income families and from foreign tourists looking for affordable summer rentals. It should be borne in mind that those looking for all-year residence should take into account of the reputation of Albufeira as being transformed from a "fishing village" with lovely city beaches into a haven for party-lovers during the summer. All year-round residents should count on significant crowds and some noise in the summer months.
Buyers can count on finding a range of options under €150,000 and even €100,000 will uncover some interesting options. Clearly sea-views and prime locations will cost a lot more but like most larger cities in the Algarve, cheaper residential apartments are available.
A "renter beware" for those looking for quality annual or winter lets: rental prices will not be proportionately lower. Because of the generally lack of availability of long-term rental inventory, buying in these areas, even with a mortgage, is often more cost-effective than renting.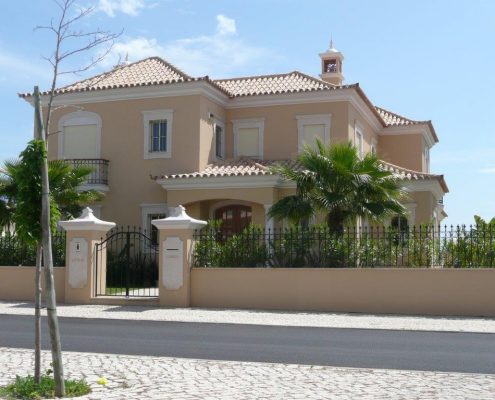 Vilamoura and the Golden Triangle, in contrast, are not only on the other end of the price spectrum but the real estate landscape is characterized by villas and some townhouses. Villas are easily valued at several millions, with a few older detached properties in Vilamoura (the cheapest of the regions) valued below €500,000. Annual rentals are extremely expensive, regardless of the quality or age of the property, although a few less expensive options are available for those willing to fill up the winter months of popular summer rentals. Because of the popular summer months, however, getting a rental longer than 4 or 5 months is very difficult.
The Central Algarve as a retirement destination
Because of the great variety of options available, each offers its unique attractions. The contrast for a retiree lifestyle is markedly different between Albufeira and Quinta do Lago, on opposite ends of the market. Because of the range of options, this part of the Algarve offers a continuum of options, ranging from the urban, greater density and lower priced Albufeira to the exclusive and expensive Quinta do Lago and Vale do Lobo. Realistically, each of the main towns has its advantages and compromises.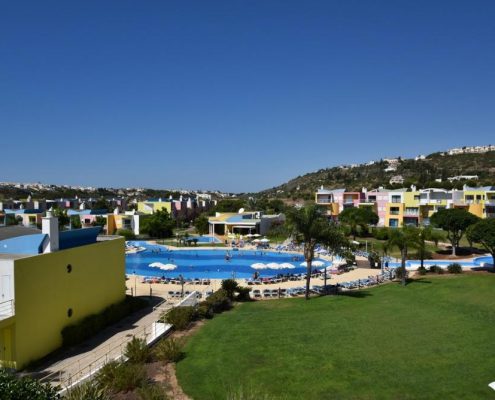 Albufeira is the Algarve's best-known tourist town. The number and density of properties mean a variety of options are available for single people or couples. Because of a focus on tourist accommodation, this translates into typically smaller sizes than the average across the Algarve, with a greater than average studio and 1 bedroom apartments than might be available elsewhere. The popularity of the town for tourists means that even those properties further away from the seafront are close to some sort of infrastructure such as local restaurants and cafés.
As Albufeira has grown, the west, beyond the Old Town past the marina and towards the links golf courses near Salgados, is lower density than the east, towards Montechoro and Olhos de Água.
Potential residents should consider that due to the number of high-rise buildings, sea views are more difficult to find and when available, are expensive relative to the town's average. The Old Town of Albufeira, which is characterised by its steep and winding streets and alleys, still retains much of its tradition and charm, but the overall impression, given the development around it, is of a sprawling tourist city. This might not be an ideal location for those looking for typical Portuguese nor for those looking to avoid a significant difference between winter and summer, in terms of crowds.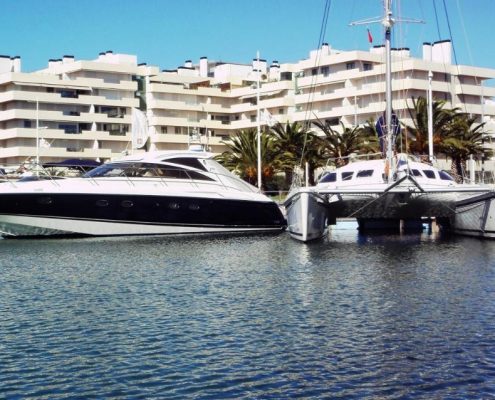 Vilamoura is a planned town, constructed around the world-class marina and several golf courses. Newer build properties offer excellent quality but tend to be further away from the marina and the beaches, and often lie within closed condominiums bordering golf courses. Older condominiums, especially those which have undergone refurbishment, offer very good options because they are close to the central avenue, where walking and cycling paths encourage residents to remain active. Vilamoura tends to be expensive because limited local commerce exists, with most options being on the expensive marina which by virtue of its reputation, caters and prices for tourists. The area is flat and excellent for walking and although the main beach, Praia Grande, is away from the town centre, it is a pleasant walk during the milder winters. Local transport is not great and a car is recommended.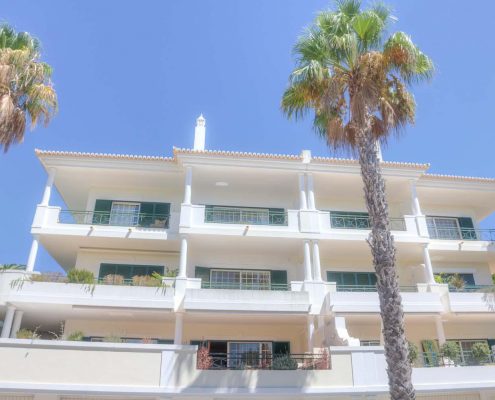 Quarteira is the local neighbour to Vilamoura and in many ways a direct contrast. It has an excellent beach, a variety of local shopping options and well served by local transport and compact for ease. It is among the original coastal cities in the Algarve, together with the likes of Portimão and Albufeira, which catered for Portuguese tourists and as such is characterised by medium-rise buildings, many of which older but equally generally with good elevator access. Prices are noticeably lower when compared to Vilamoura. Those who are looking to meet other foreign retirees are more likely to find them in Vilamoura than Quarteira, which is characterised but its primarily local population.
The Algarve's Golden Triangle, broadly covering the area between Quinta do Lago, Vale do Lobo and Almancil, is one of the world's most expensive real estate neighbourhoods. Anchored around world-renowned golf courses and upmarket amenities, the area is aimed at wealthy clients and residents many of whom have purchased holiday homes. Two immediate challenges exist in this area: there is very little modern inventory available of suitable size and in appropriate locations, and older inventory is spread over multiple floors and often in need of refurbishment. Generally, properties are most expensive here than anywhere else in the Algarve.
Talk to us about your requirements and we can show you a range of accommodation or purchase options.